Emergency and Ambulance Services
We have 24 hours on call ambulance service.
Emergency Services- 24 hours round the clock well trained doctors and nurses available capable of handling emergency conditions of Obs & Gynaecology, General Surgery and all other specialties.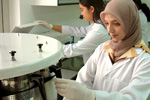 Laboratory Services
The department performs various tests with efficiency and the results are processed accurately in time. The department is equipped with

» Slee Germany, to cover the pathology department;
» Minividas France, for accuracy in reporting;
» Labomed digital microscope with analyzing software, U.S.A.